Featured Properties!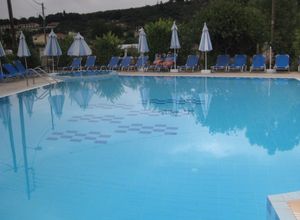 ZAKINTHOS, 3-star hotel enterprise currently in operation, 2 buildings totaling 1.600 m2 in 2.700 m2 of land, inside city plan, capability to add extra 1.200 m2, 28 double / triple bed guest-rooms, total capacity 84 beds, 400 m. from seashore, 120 m2 swimming pool, pool bar, lobby bar, breakfast /dining facility, IT - linked bookings and reception service, collaboration with major tour operators, qualified for development law and to graduate to 4 - star /boutique hotel status, renovated in...
EVIA ISLAND, seafront 3 star category hotel complex in good upkeep condition and in current operation, located in quiet, peaceful area 2 kms from city center, 300 m from main road, land totalling 28.000 m2, built grounds totalling about 10.100 m2, of which; 5.800 m2 central and 4 auxiliary buildings ; 2100 m2 six independent residence - bungalows, 1.700 m2 verandas and pations, 230 m2 central swimming pool , 16 m2 children's pool. 5.200 m2 possibility for additional expansion. Total...